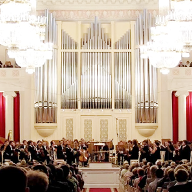 The Exhibition
The exhibition in the Grand Hall's area, which will open on August 9, 2022, will feature the unique collection of exhibits, many of which have never been on the show before: the original symphony score, Shostakovich's personal letters, musicians' personal possessions and instruments, K. Eliasberg's belongings, as well posters, photographs, letters, etc. – everything related to the symphony performances in Kuybyshev, Moscow, Novosibirsk, Tashkent, London, New York, and, of course, in Leningrad. It is this Leningrad performance that will take centre stage in the exhibition.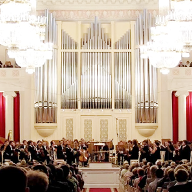 The Scientific Conference

The scientific conference dedicated to the cultural memory of the Leningrad Symphony will take place on August 9, 2022, bringing together WWII historians and researchers, musicologists, archivists, museum professionals, and cultural memory experts from all over Russia. The key topics will cover the performance of the Seventh Symphony during the war and its reverberations, the memorialization of the event, uncovered documents regarding the preparations for and premieres of symphony performances in Soviet Russia and abroad, and contemporary reflections on this memorable event.